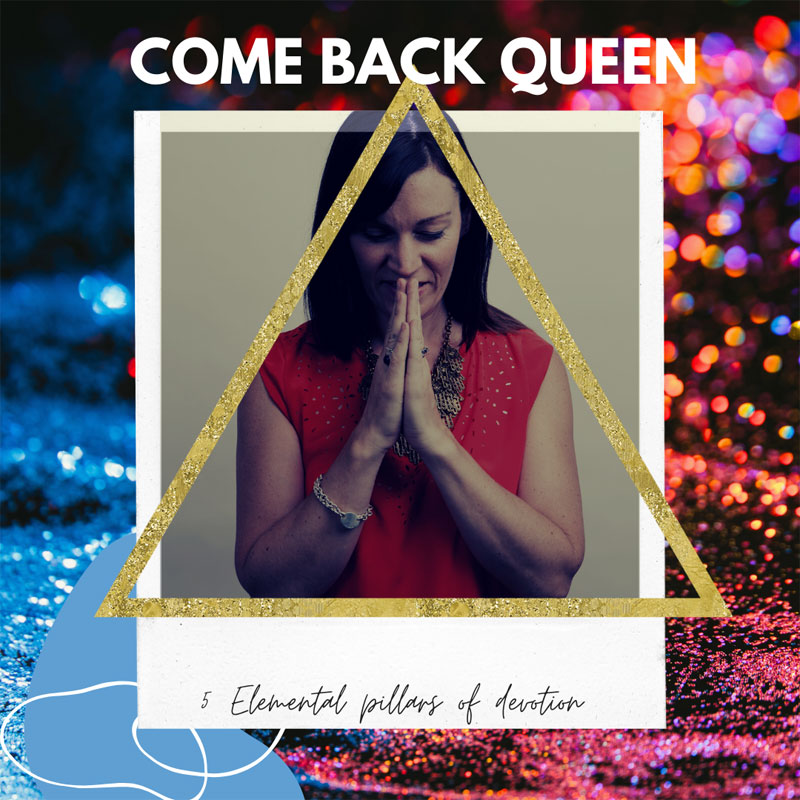 4 week healing journey starts 8th June 2021
Clear Create & Conquer - Ready to face the world (via Zoom)
£249 or £349 with 2 dedicated coaching sessions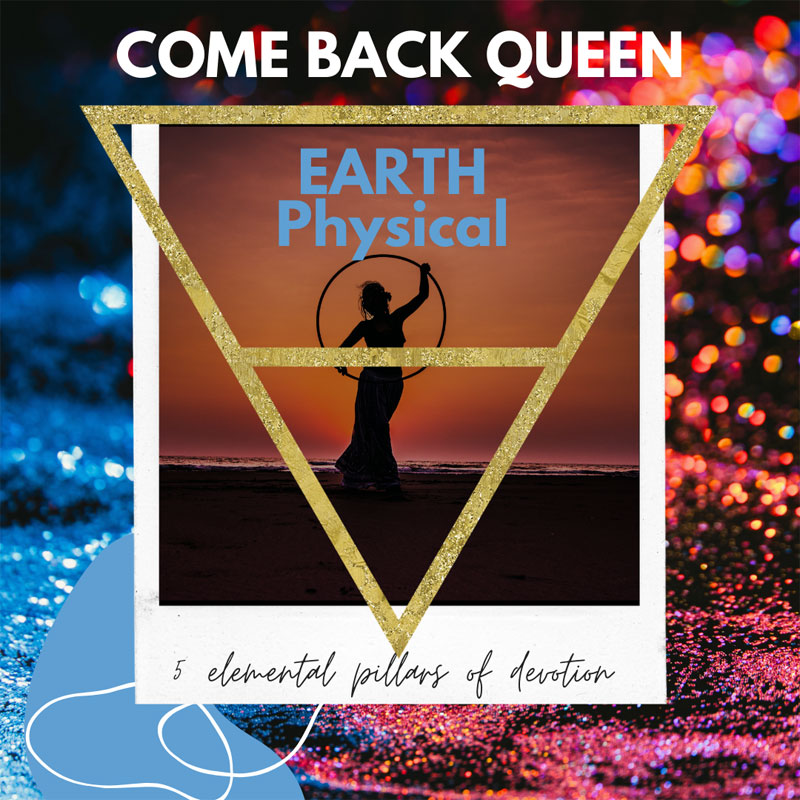 2020 has been a year like none of us have ever experienced. Now as the world is slowly coming back to a new normal; we are having to navigate what that means to us in many different areas.
We are coming back from a time of social distance, from adversity, from being disconnected.
We are coming back from a world that wasn't working, structures that weren't working, maybe a life that was no longer working.
Divine Feminine Power
It is no surprise that 2020 is also a year of divine feminine power awakening. 2 is the number of the High Priestess and the divine feminine and 0 amplifies and protects energy, so the 2020 vibration is truly one of the feminine rising.
The Wild Woman archetype in all of us is teaching you to no longer accept the status quo.
Who Are You?
You may be re-thinking your identity in the world and how you engage others…
Perhaps you are re-evaluating who the hell you are and what your passions and true priorities are. You will only know the answers by exploring, expressing and taking action on what is in your heart.
We can no longer play things safe!
It's time to release yourself from the expectations of other people and engage with the world by standing fully in your purpose, power and presence.
It's time to shed your old skin and re-invent yourself.
It's time for us all to heal and co-create a better world, and you can only do that by showing up as your true, authentic self.
It starts with you…
Are You Ready To…
Come back from your smallness, your guilt, your fear, your inadequacies, your sense of failure.
Come back from your stories that have kept you small, from your limiting beliefs that hold you prisoner.
Come back to you, to your passions, your power, your presence
Come back to your soul & reconnect to your source.
Come back to your heart.
Come back to your divinity.
It's time to fix your crown.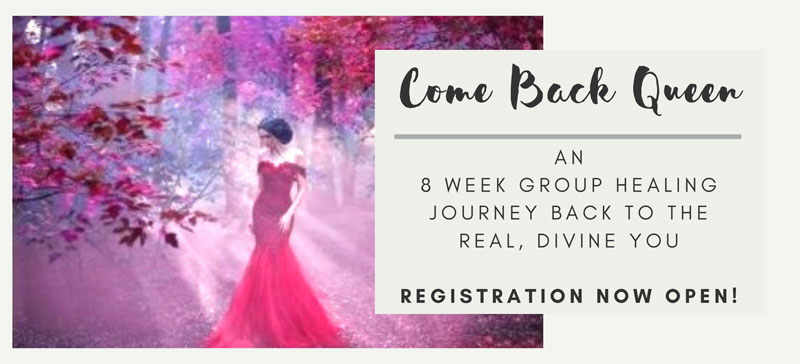 Are You Ready To Come Back Queen?
Are you ready to tell a new story and say yes to taking a journey back to you in the safety of a supportive sisterhood?
Join Our Safe, Sacred Space
Let me take you on a real, raw trip to transmute your trauma into treasure, to shift the shit out of your life and to transform over a cuppa tea.
Within a safe, sacred space and with the strength and support of a community of like-minded women, we will take this journey together.
A journey to reconnect all the lost parts of yourself, so you can see your true beauty, value and Goddess power reflected back to you.
With gentle somatic energy healing, transformational coaching, yoga, breathwork, mantra & mudra we will journey deep to:
Fully understand, accept & embrace who you are in this moment and move into compassion
Heal and release you from any trauma or pain you've unconsciously held onto from your past and truly forgive

Gain clarity around your purpose, passion and feel excited about your future

Reconnect to your cycles and your body and learn to trust yourself intuitively
Reignite your creativity so you can fully express yourself authentically

Restore balance between your own inner masculine & feminine so that you can liberate your closest relationships

Reclaim and stand in your power by accessing your rising Kundalini energy

Free your voice so you can speak your truth

The result is that you develop such a strong sense of self love and self-worth that you will be in flow with the universe. From this place you get to co-create your own personal idea of heaven on earth and the magic is as you transform so does everyone else around you.
You become closer to the woman you were born to be living the life that you've always dreamed of.
Is This Journey For You?
This journey is for you if:
You've lost your sense of self and need to become reacquainted with the new untamed, unfiltered, unashamed, unapologetic you
You are surviving but not thriving and want to move out of the heaviness of overwhelm to experience lightness with grace and ease
You've become disconnected from your joy and know that it's time to rediscover what lights you up & reignite your passion
You're through with playing the victim and are ready to rise up as the heroine of your story
You're so used to living in your masculine energy that you find it hard to exist without a plan, but long to feel the freedom of being fully in your feminine flow
You're tired of feeling stuck and trapped and are ready to tap into your intuition, activate your gifts and unleash your creativity to co-create a brighter future
How Does It Work?
On the 8 week journey I will be guiding you back from the brink through transformational coaching, healing, yoga, meditation, creativity, movement and mantra.
There will be a weekly group zoom call, meditation & pranayama, journal prompts & deep transformational exercises.
It will be fun, devotional and deeply nourishing!
This journey would value at over £1500 in the current online course space, however I want as many women as possible to experience this level of transformation.
How would you feel if you were able to come back from the brink from wherever you are in your current mental, emotional and physical situation within 8 weeks?
Have a safe group of soul sisters you can rely on for support?
And have me as your personal, (been to hell and back) guide?
How would it feel to be reinstated as the Queen of your world and wearing your crown with a new sense of self-worth & self-love, creativity, connection & confidence in just 8 weeks?
Over the course of the journey you will receive:
20 hours of group coaching – recorded and saved into your private members  group so you don't miss anything even if you cant make it live
8 live videos
Bonus healing sessions
Access to a private, sacred sisterhood
Accountability partner
Personal access to me throughout the journey
A dedicated workbook

How Our Recently Crowned Queens Feel
"I feel liberated and finally connected to my joy"
The journey has been very nourishing and enriching. I feel that you have lifted me into aspects of myself that had been boxed up and dumped in the cellar and attic of my psyche!  Exploring music and poetry and dance as part of the process has enabled me to begin to reconnect with my emotional self and has brought joy, previously a stranger to my daily experience.  
I now have tools to help me feel embodied and uplifted and I am standing in my power.  
I am so grateful that your authenticity, vulnerability and compassion has meant that I am able to do the same – Verity 
"Highly recommend this programme for anyone wanting to delve deeper"
Jo does an amazing job of providing a safe space for us to explore our inner selves. I've loved the deep meditations, sharing of experiences, my creative side being unleashed and the insights that have arisen – Laura
What's The Investment?
I am offering all of this valuable content for the investment of £795
Sign up before the 11th September 2020 and you will be eligible for the early bird rate of £495
This price will rise to £795 after this time.  There are payment plans available on request.
I will also be offering 2 scholarship places on a pay what you can basis. So if you would like to contribute towards allowing a sister to join us that might not be able to otherwise then please add a donation to your payment.  If you would like to apply for one of these places, please contact me to discuss.
That works out at less than £16 per hour for the dedicated coaching & healing!
Sign Me Up!
We begin on Thursday 17th September and it is no mistake that our first live initiation call is scheduled to be on 22nd September on the Autumn Equinox, such a potent time. There is a powerful alchemical group of women who will be taking this journey with you & we will gather in an exclusive Facebook group that will become a potent portal for healing & transformation.
Don't miss out, book your place now… Early Bird Offer ends soon!
Spaces are limited and there has never been a more potent time for us to journey together to claim your sovereignty and your Queendom.